Apple says that its App store safety mechanisms blocked $1.5 billion in fraudulent App Store transactions, 1.6 million risky and vulnerable apps, and app updates from defrauding users.
Since the bad actors continue to evolve their methods of online fraud, Apple has sustained to enhance its processes, create new ones, and engineer solutions to take on these threats.
According to the Apple's Inaugural Fraud Prevention Analysis report, "In 2020 alone, Apple's combination of sophisticated technology and human expertise protected customers from more than $1.5 billion in potentially fraudulent transactions, preventing the attempted theft of their money, information, and time — and kept nearly a million problematic new apps out of their hands".
As an update to that analysis, in 2021, the company protected customers from nearly $1.5 billion in potentially fraudulent transactions and stopped over 1.6 million risky and vulnerable apps and app updates from defrauding users.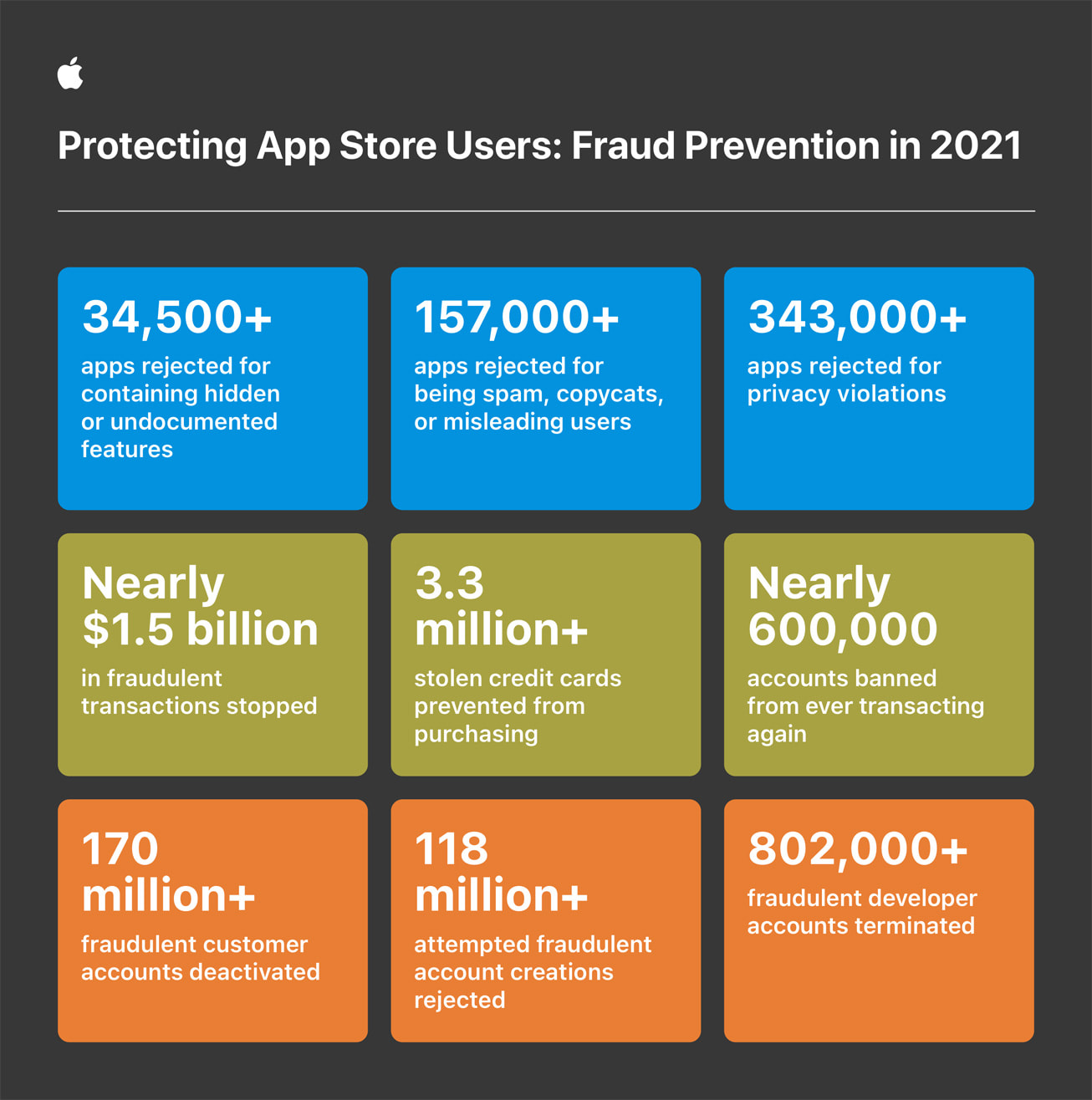 Apple mentions that its efforts to protect customers from fraud attempts need the monitoring and vigilance of multiple teams focused on several areas, from App Review to Discovery Fraud.
The report says in 2021, over 835,000 problematic new apps, and an additional 805,000 app updates, were rejected or removed for various reasons which put users at risk. More than 157,000 apps were rejected for being copycats, misleading users, or manipulating them into making in-app purchases.
Apple report states that in 2021, the App Review team rejected over 343,000 apps for requesting more user data than necessary or mishandling data they already collected.
Illegitimate Ratings and Reviews Pose a Serious Risk
Illegitimate Ratings and Reviews can lead users to download and purchase an untrustworthy app that attempts to game the system through misrepresentation, rather than provide the quality experience users expect from the App Store.
Apple reports that over 1 billion ratings and reviews were processed throughout 2021, the company noticed and stopped over 94 million reviews and over 170 million ratings from publication for failing to meet moderation standards. Nearly 610,000 reviews were also removed after publication based on customer concern submissions and additional human evaluation.
Blocking Illegitimate Apps
To protect users who download apps beyond the safe and trusted App Store, over the last 12 months, Apple found and blocked over 63,500 illegitimate apps on pirate storefronts. In 2021, the company deactivated over 170 million customer accounts associated with the fraudulent and abusive activity.
Protected Nearly $1.5 billion from Potentially Fraudulent Transactions
Therefore, totally Apple protected users from nearly $1.5 billion in potentially fraudulent transactions in 2021.
"To help ensure that trusted ecosystem is sustained for years to come, Apple will continue working to detect fraudulent activity and accounts, and prevent financial crimes", says Apple.
You can follow us on Linkedin, Twitter, Facebook for daily Cybersecurity and hacking news updates.